READY. SET. SHOP. 10% OFF WITH COUPON CODE BEACH!
LIGHTING EXCLUDED. FREE SHIPPING ON ORDERS OVER $75!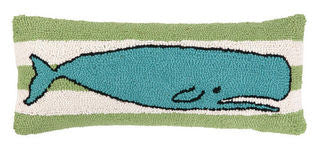 Single Whale Hook Pillow
$ 49.99
We love a good whale!
Green and white stripes are the perfect backdrop for this beach drcor hook pillow highlighted with one big whale.
Measures 8" x 20".
Back zipper.