READY. SET. SHOP. 10% OFF WITH COUPON CODE BEACH!
LIGHTING EXCLUDED. FREE SHIPPING ON ORDERS OVER $75!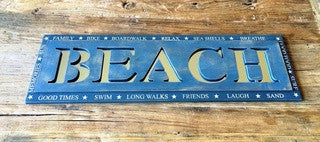 BEACH Mirror Sign
$ 64.99
A panel of distressed blue surrounds this fun seaside mirror.
BEACH letters are cut out to reveal a mirror background. Our favorite beach words surround the frame.
Measures 30 1/4" x 9".