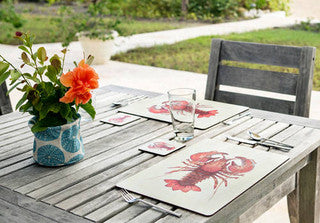 Lobster Hard Placemat Set
$ 47.99
Life at the beach made even easier.
Thick and moisture-resistant, this set of four 12" x 16" coastal placemats wipe clean and feature a thin cork backing.
Heat resistant to 225 degrees.
Comes in a glossy box with artist info.
Perfect for gift-giving.
Who doesn't love a little lobster by the sea?
Set will come with four (4) hard placemats.