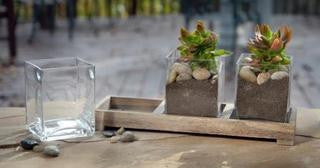 Sandy Shores Coastal Decor Planter/Candleholder
$ 49.99
The choice is yours . . . fill with your favorite small plant and watch it flourish. Throw some sand in the bottom and light your favorite seaside tealight candle. Display your best shells.  Or combine a few ideas!
Our Sandy Shores Coastal Decor Planter/Candleholder measures a substantial 15 3/4" x 5 1/4" x 5 3/4.
Comes with an ashwood stained wood base with three heavy square glass vases.