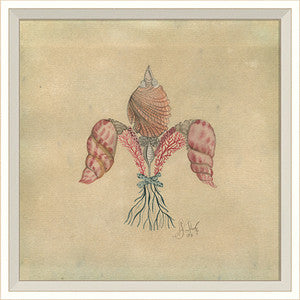 Seashell Fleur De Lis 2 Artwork Print
$ 219.99
This Seashell Fleur De Lis artwork collection is available in six different styles.
Shown here is the Seashell Fleur De Lis 2 artwork print.
Encased in a simple white frame, this seaside collection is available in two sizes:
Medium measuring 17 1/8" x 17 1/8"
Large measuring 25 7/8"x 25 7/8"
Please make your size selection below and allow 3-4 weeks for delivery direct from the manufacturer.