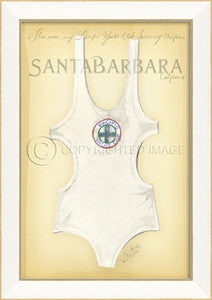 Vintage Swimwear Santa Barbara Framed Art
$ 89.99
Love the vintage swimwear look?  We do too!
This beach decor artwork collection features a print of original artwork by Kolene Spicher framed in white wood and encased in glass.
Measures 8 3/4" x 12 1/2".
Shown here is the Santa Barbara Swimwear.
Also available as Florida Keys, Long Island, Nantucket and Hamptons swimwear.
Group a few together for a statement wall.  Will ship directly from the manufacturer within 3-4 weeks.