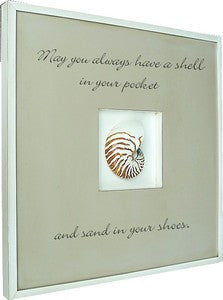 Quote Box Nautilus Coastal Decor Artwork
$ 159.99

$ 129.99

Framed natural wonders from the sea . . . every piece is hand crafted and painted in antiqued cottage white trim.

"May you always have a shell in your pocket and sand in your shoes" in Coastal Tan is embellished with a beautiful natural nautilus specimen.

Every found treasure is a unique, one-of-a-kind artistic coastal accent for your seaside space.

This exceptional beach decor artwork measures 24" x 24".

Please note, there will be no glass frame compromising the beauty of each piece.