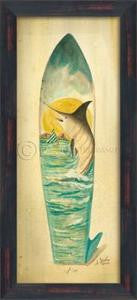 Surf Time Marlin Framed Art
$ 139.99
This collection of aged retro surfboards have the perfect vintage look and feel.
Here is the Marlin Surfboard Print Artwork.
Encased in glass with a black painted frame with red highlights.
Available in the following sizes:
Small Marlin Frame measures 8 5/8" x 18 1/8"
Large Marlin Frame measures 12 1/8" x 26 5/8"
Special Order item, will require a 20% restocking fee.
Will ship directly from the manufacturer in 3-4 weeks.