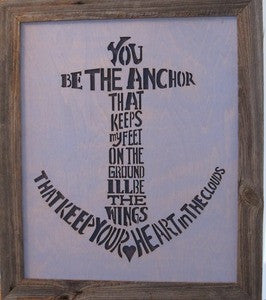 Anchor Saying Salvaged Wood Cutouts
$ 229.99
This product is unavailable
One of our favorite coastal pieces!  Could be the message . . . could be the salvaged wood.
Laser-cut Anchor is done on wood and reads:
"You be the anchor that keeps my feet on the ground I'll be the wings that keep your heart in the clouds".
Measures 34" high x29" wide.
The fabulous frame is made from reclaimed barn wood and measures approximately 2 1/2".   
As this is designed from salvaged wood, please expect to find natural variations.