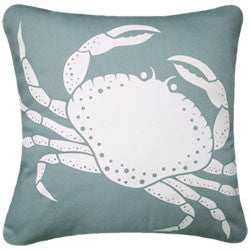 Oceanside Aqua Crab Pillow
$ 59.99
These Eco-Art beach decor accent pillows are hand-painted with environmentally friendly safe water-based paints.The contrasting white crab sits on the aqua background of this 18" square coastal decor pillow.
Inserts for these Eco-Art beach decor pillows are 100% hypoallergenic with a soft and fluffly ecofiber made from recycled bottles.
Made in the U.S. Machine wash cold, gentle cycle. Tumble dry low. Hidden zipper closure.