READY. SET. SHOP. 10% OFF WITH COUPON CODE BEACH!
LIGHTING EXCLUDED. FREE SHIPPING ON ORDERS OVER $75!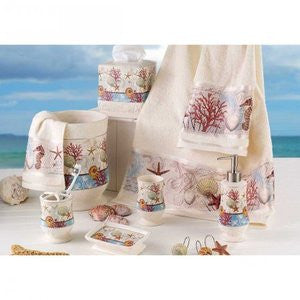 Barbados Beach Decor Bath Accessories
$ 19.99
A collection of treasures from the sea!
Coral, shells and seahorses adorn these beach decor bath accessories in splashes of aqua and deep coral.
Available as a Toothbrush Holder or Lotion Pump.  Other items are not available.