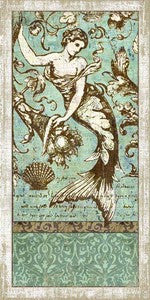 Driftwood #2 Mermaid Wood Print
$ 76.99
Love a mermaid?  We do!
This Mermaid #2 print image is printed directly onto a distressed wood panel, complete with occasional knots and other natural characteristics.
Now about the process. The panels are made from tongue and groove slats of hemlock, fir or adler. By printing over the natural wood characteristics, each panel gains interest and individuality. No two will be the same!
Available in three sizes: 
Small 15" x 26"
Medium 20" x 32"
Large 25" x 40"
Will ship directly from the manufacturer within 2-3 weeks.