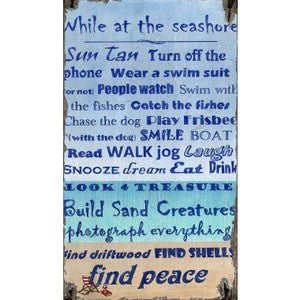 Peace at the Beach Wood Print
$ 76.99
A day at the beach . . . begins with sun tan . . . ends with find peace!
This vintage image is designed to look weathered and then printed directly onto a distressed wood panel made from tongue and groove hemlock, fir or alder hardwoods.
The panels are 1" thick and feature natural characteristics such as knots that create an authentic looking vintage sign with rustic features.
Available in two sizes:
Medium measuring 15" x 26"
Large measuring 20" x 32"
Made in the USA. Will ship directly from the manufacturer within 2 weeks.