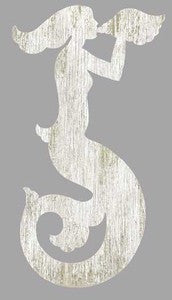 Mermaid White Left Wood Cutout
$ 129.99
Love a mermaid by the sea?  We do too! 
A silhouette of a white mermaid printed directly onto a wood panel and then cut out.  Natural variations will be present on all of the wood products.
Measures 20" x 32".
Need more options:  Also available in Right Silhouette and in Aqua.
Will ship directly from the manufacturer within 2-3 weeks.
SPECIAL ORDER ITEM, WILL REQUIRE A 20% RESTOCKING FEE.