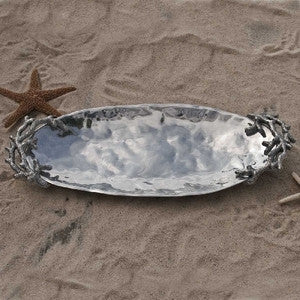 Ocean Coral Oval Serving Tray by Beatriz Ball
$ 149.99
The perfect seaside serving tray by Beatriz Ball.
The mastery of the skilled artisians behind each Beatriz Ball creation is revealed in its character, surface and luster.  More than 12 different sets of hands to develop each masterpiece.
Every piece is made one at a time, so expect natural variations in texture and form. You will not be disappointed in these striking coastal creations.
This Ocean Coral Oval Tray measures 20" x 8 1/2" x 1 1/2" and is made of an FDA safe, easy-care 93% aluminum alloy.
Ideal to chill foods, or warm up to 325 degrees.
In a world of mass production, handmade is the true luxury.
Easy care, never tarnish. Handwash, no dishwasher please. Do not leave standing in water. Avoid cutting on surface.