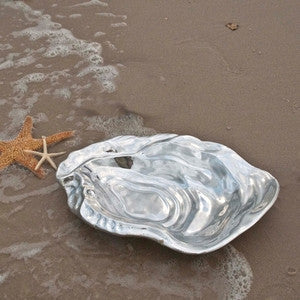 Large Oyster Bowl by Beatriz Ball
$ 124.99
The perfect seaside serving bowl by Beatriz Ball.
The sand-casting process used to make this bowl, requires more than 12 different sets of hands.  Every piece is made one at a time, so expect natural variations in texture and form.
This Large Oyster Bowl measures 18 1/2" x 11 3/4" x 2" and is made of an FDA safe, easy-care 93% aluminum alloy.
Ideal to chill foods, or warm up to 325 degrees.
In a world of mass production, handmade is the true luxury.
Easy care, never tarnish. Handwash, no dishwasher please. Do not leave standing in water. Avoid cutting on surface.